Home > Prodcut > Counterfeit Detectors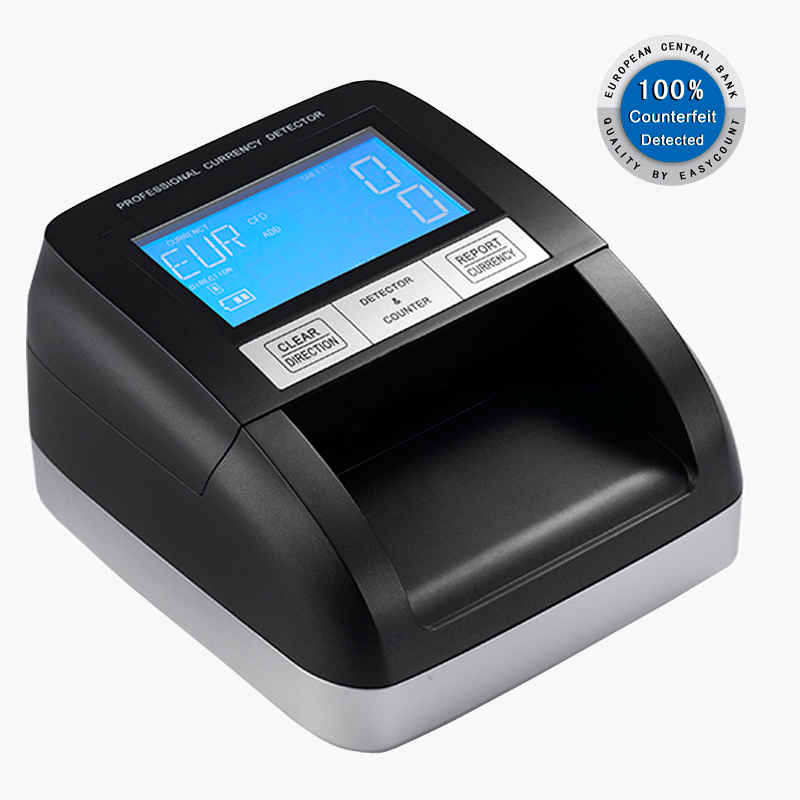 EC330 8 Currencies Professional Detector
Key Features:
1) Top Cover Can Open and Without Maintenace Design
2) Professional Multi-Currency Detector, Support New Version Euro and New version USD100 bill
3) Feed in Left Side and Operate Very Easy
4) High Accuracy, Big LCD Display
5) ECB 100% tested, CE, RoHS, CCC approves

Product Detail
Features:

1. Successfully tested in ECB, 100% counterfeit notes can be detected
2. High sensitive.
3. Easy to operate: The banknote can be accepted from all directions
4. Detection speed: <0.5 second/note
5. 2D Size Detection
6. Ultraviolet detection
7. Magnetic ink detection.
8. Metal Thread detection.
9. Infrared accurate detection.
10. Paper Characteristics detection.
11 Total value counting and denomination/currency/amount counting.
12. Power saving: automatically turn off the LCD backlight after 30 seconds without operation.
13. Audible alarm when detecting counterfeit note.
14. Large LCD display with blue backlight
15. Compact space design
16. Updatable by PC cable.(optional)
17. 12V Power cable of the car.(optional)
18. Double power suppliers: DC9V or Rechargeable Lithium Battery (optional)
Specifications

1. Operation Temperature: 0ºC- 40ºC
2. Storage Temperature: -20ºC-70ºC
3. Ambient Humidity: 25% - 80%
4. Dimensions: 143 x 128 x 75 (mm)
5. Net Weight: 0.6kg
6. Display: 12 bit digitals large LCD with blue backlight
7. Power Source: DC9V or 7.5V Lithium Battery (optional)
8. Detection Speed: < 0.5 second/note
9. Power Consumption: 5W
10. Certification: CE, ROHS approved
Packing Details:

1PC/Carton:
Carton Dimensions: 22x18.5x12cm
N.W.: 0.55kg
G.W.: 0.90kg
20PCS/Carton:
Carton Dimensions: 82.5x35x27.5cm
N.W.: 12kg
G.W.: 18.5kg